Search this site
History of Schooling
---
We are grateful to Derek Gillard for the carefully researched information which he has provided and which is available on his website for those wishing for a more in-depth article than our own. Here is Derek's site.
Can you improve this page?
Is there anything important that you think we have missed? Do you have useful photographs or other material? Have you a worksheet you could share? Please write to us on the contact page.
NATIONAL SCHOOLS
The National Society for Promoting Religious Education is a Church of England body in England and Wales for the promotion of church schools and Christian education.
It was founded on 16 October 1811 as the "National Society for Promoting the Education of the Poor in the Principles of the Established Church in England and Wales". Its aim was that "the National Religion should be made the foundation of National Education, and should be the first and chief thing taught to the poor, according to the excellent Liturgy and Catechism provided by our Church." One of the principal founders was Joshua Watson.
Historically, schools founded by the National Society were called National Schools. At ground level these schools were implemented by the local vicar and members of the Church of England. This external website gives an account of the setting up of two schools in St Helens, and at the other end of the country here is an account of a school which grew out of an early Sunday school.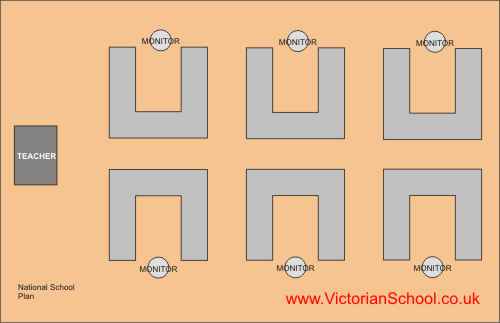 Although the National School system still used monitors, much as the Lancasterian system, the classes were usually smaller.